The Xfinity Flex is a TV streaming device from Xfinity offered free-of-charge to its internet-only customers.
With Xfinity Flex, you'll be able to access premium subscriptions like Amazon Prime Video, Netflix, HBO and Showtime, stream more than 10,000 free movies and shows, and rent or purchase top shows and movies – all from one single screen with one-stop control and search using their award-winning Voice Remote.
Xfinity Flex – What's All About?
Xfinity Flex, a streaming platform that's only for internet customers as an add-on.
---
When you sign-up, you get a 4K HDR-ready streaming box and Flex voice-remote. Comcast previously charged $5 per month per set-top for Xfinity Flex. It is including live streaming TV from ESPN3, Xumo, Pluto, Peacock, Tubi TV, Cheddar, NBC Sports Gold , YouTube, and more. You can also access their digital lockers across platforms by pairing their account with Movies Anywhere or listen to music from iHeartRadio, Pandora, and XITE.
Beyond the TV, Xfinity Flex customers can also use the system for unique services like finding the Wi-Fi password, checking what devices are connected to the network, set parental controls, pause Wi-Fi access on the home network and automation tasks for checking and activating home security protocols.
Only Comcast internet customers can purchase Flex service, it is not available to customers of Charter Spectrum, Cox, Altice, or other cable operators.
Xfinity Flex price and features:
Price: Free with Xfinity internet-only subscription; $5 a month for additional Flex boxes
Size: 5.25″ x 5.25″ x 1″
Video: 1080p, 4K HDR
Audio: Dolby Atmos; 5.1 surround sound; 2.0 stereo
Storage: N/A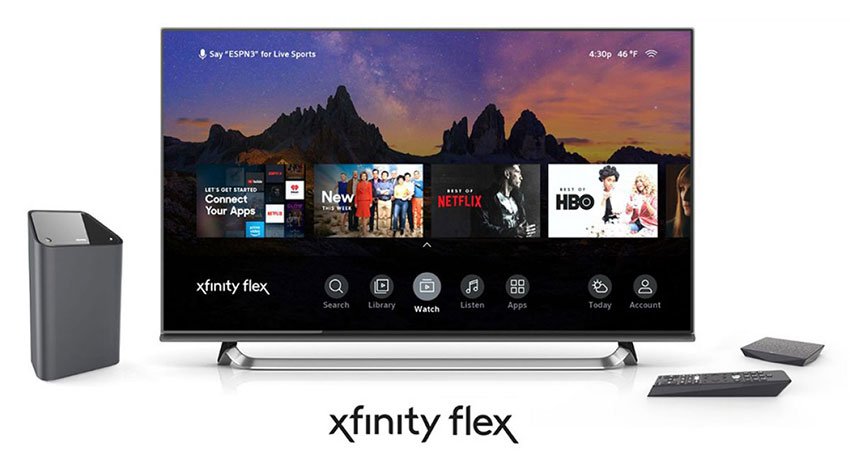 Xfinity Flex will deepen our relationship with a certain segment of our internet customers and provide them with real value.

VP of Xfinity Services Matt Strauss
Xfinity Flex equipment
Xfinity Flex streaming box
Voice remote
Quick Start Guide
HDMI cable
USB-C power adaptor
2 AA batteries
What you need:
Xfinity internet subscription
TV with HDMI port
---
How to set up the Xfinity Flex
---
First, make sure your TV has an HDMI port. Unpack the Flex and follow the steps. You can also watch the video below from CollectorKev explaining the procedure.
Plug the the box into your TV's HDMI port on the back or side of your TV using the HDMI cable that came in the box.
Note the HDMI port's number., because if your TV has more then one HDMI ports you will have to select it. If you plan to stream movies and TV shows in 4K UHD or HDR, remember to select an HDMI 2.0 port that supports HDCP 2.2.
Plugin the Xfinity Flex's power cord to a power source.
Flex will connect automatically to your Xfinity Wi-Fi
Follow the screen to set your Xfinity Flex installation.
If you plan to stream movies and TV shows in 4K UHD or HDR, remember to select an HDMI 2.0 port that supports HDCP 2.2.
A great overview of CollectorKev. If you like the video don't forget to subscribe to his channel.
Of course if your TV doesn't support 4K you may not see all the benefits of using it. 4K TVs are really affordable and the price is down to $500 average for a good 4K TV.
---
Xfinity Flex vs. the competition
---
---
At the Glance…
The deal includes an Flex box and Voice Remote at no additional cost of the Xfinity Internet service. It required that you use Comcast's own modem/router combination, and it didn't offer apps for services designed to replace the cable bundle.
If your TV support 4K and want to watch 4K content, but you are not an Xfinity customer you may look at this Roku Streaming Stick+ as the most affordable low-end Roku so far as you may concern.