Parental control software or monitoring are applications designed to allow the parent to control the activity of their children on the computer while they are surfing online or offline. The parents can block access to different types of websites and programs, can schedule the internet access, can view reports with visited websites, programs used, and the time spent on each activity on a given computer.
What To Look For When choosing Parental Control Software?
Blocking There are many websites and is impossible to know all of them, so is very important to block websites by category. Best programs include built-in categories (ex. Pornography) which already include a database with websites.
Tracking A good parental control program will record visited websites, programs used and the time spent on different activities.
Management and Control Is very important that you can change settings and view reports from anywhere. The best applications provide an online account and you can access data and change the filters anytime and from anywhere.
Reporting Again, is very important that you can access the reports from anywhere (online account). Also, there are useful the reports sent regularly by email and alerts for different events.
Scheduling The best programs to allow to set time intervals when the internet can be used or not, to set a maximum limit of the daily time (in hours and minutes) for the internet access.
Below we'll present the top Parental Control Apps for Android you can use to protect your child from the danger of the Internet with the main features of each of them to help you choose the best one for yourself that satisfies all your needs.
Here are the 7 Best Parental Control Software
Net Nanny
---
Net Nanny parental control software is monitoring the social media presence, tracking the online website browsing history of your child and more.
This app is easily compatible with Android, Windows, Mac and Kindle. Net Nanny sends regular updates and notifications, along with your weekly or monthly summary reports.
Your child can often turn out to be a victim of cyberbullying. Net Nanny is a great way to protect them
Features:
Better monitor all activities.
Internet filtering.
Monitor Social Media.
Location tracking.
Screen time limits.
Notifications – weekly and monthly emails and opt in SMS
Ease of use
Available for: Windows, Mac OS X, Android, iOS, and Kindle
Mobicip
---
Mobicip parental control is the easiest way to manage screen time, protect your kids online, and monitor all your family devices conveniently from your phone or computer.
Mobicip offers its advanced internet filter across Safari, Chrome & other browsers. With Mobicip's app blocker, you can apply restrictions on apps that your kids download or access.
Mobicip is supported on various types of devices used by families such as the iPhone, iPod Touch, iPad, Android, Windows, macOS and Chromebook.
Features:
Set time limits for internet usage.
Monitor all activities.
Manage your child's internet use across multiple devices.
Data encryption.
Browser protection for the desktop.
Mobile app for parents.
Powerful content filter
Available for: Windows, Mac OS X, Android, iOS, and Chrome OS
Bark
---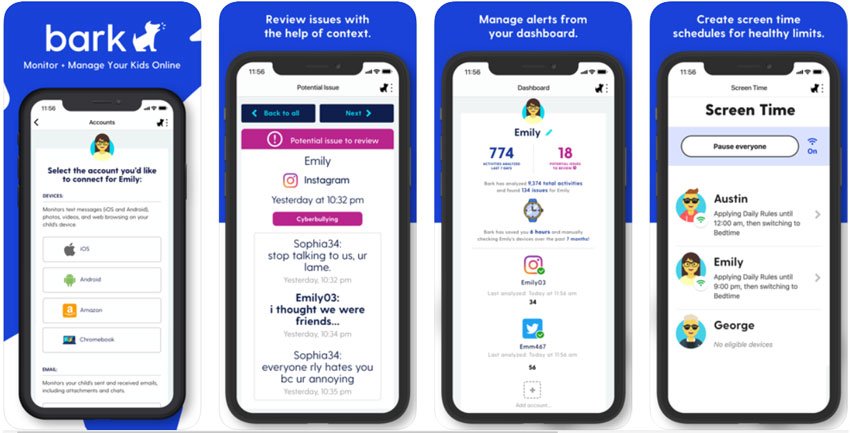 Bark is a parental control phone monitoring app to help keep kids safer online. Bark monitors social media, text, and email on Android and iOS devices.
Bark is a feature-rich parental control app that can protect your kids from various online threats. With this app, you can learn if the kids are planning something not appropriate.
Bark offers some of the fairest prices on the market. Their payment plans start at $9/month.
Features:
Monitoring across 24 social media apps
Alerts for texts and emails
Compatibility with most devices, including Android and iPhone
Tips to help parents start honest conversations with their kids
Easy To Setup & Use
Works With All Major Social Networks
Enables monitoring on an unlimited number of devices
Qustodio
---
Qustodio lets you have more information to help protect your children against the growing number of serious online issues such as viewing inappropriate content, cyberbullying, cyberpredators, and screen addiction.
Qustodio offers one of the most comprehensive list of features for a parental control software. The firm was founded in 2012 and is headquartered in Barcelona, Spain.
The company doesn't offer real-time ways for customers to contact it, but it does have a well-developed support section.
Features:
Filter website content
Access real-time location
Block social apps
Lets parents set time limits
Cross-platform
Excellent content filtering
Extensive monitoring features
Available for: Windows, Mac OS X, Android, iOS, and Kindle
Kaspersky Safe Kids
---
Kaspersky Safe Kids gives you more than standard parental controls to make parenting easier. Kaspersky Safe Kids offers Free Parental Control Software that provides strong parental controls and Internet filtering as well as a paid version at a low price. It is very competitively priced, at $14.95.
If children attempt to visit forbidden sites, or proceed to past the warning screen, to the site, parents are notified via email. Safe Kids is available for Windows and macOS desktops with mobile apps for Android and iOS.
The app also tells you whether their phone has GPS, Wi-Fi, or networking turned on and even shows you the remaining battery life.
Features:
Real-time location tracking at any time
See all device usage times and add custom device blocks
Automatic and custom internet material blocks
Allows you to block access to adult websites and content*
Blocks harmful YouTube search requests on topics like drugs & alcohol
Helps you manage access to games & inappropriate apps*
Lets you manage their screen time by device*
Reports on their public Facebook activity, including their posts and newly added friends
Shares expert advice and tips from child psychologists on online topics
Available for: Windows, Mac OS X, Android, iOS
WebWatcher
WebWatcher is a good monitoring tools to track SMS, deleted text and photos. Parents can track website history call log history as well as incoming messages on the leading social channels. It is a proprietary licensed computer and mobile device monitoring software developed by Awareness Technologies and compatible with iOS, Android, Windows, macOS and Chrome operating systems.
 Parents can read their kids texts, monitor calls, check search history and supervise the other activities to ensure their kids don't fall victim to cyberbullying. The procedure of installation is very simple and will not take more than 5 minutes.
This app is among the most downloaded parental control apps. The entire report is sent to your online account which can be accessed from any device with a stable internet connection. 
Features:
​Keylogging
Internet traffic monitoring
Monitoring of email and messages
Email tracking
Monitoring of all programs installed on the device
Access list of all apps installed
Access photos and videos taken with the camera
Call logs
Text messaging logging, including deleted ones
Web history
Risky photo recognition
Location tracking
Available for: Windows, Mac OS X, Android, iOS, Chrome OS
McAfee Safe Family
McAfee Safe Family is a program that protects children of all ages from exposure to inappropriate content, social networking risks, strangers and other threats. It provides parents with the visibility and simple controls needed to improve web, app & digital safety for children. Works on an unlimited number of devices and comes with a good number of features.
It performs all the basic controls like website-blocking, tracking social media activities, has an efficient time management system. If your child posts unacceptable posts online on social media sites, you would be made aware of that immediately.
McAfee Safe Family sends you alerts when your kids arrive at or leave designated locations.
Features:
​It allows to view the usage activity of apps, web usage, system alert history and location details.
Websites can be filtered by category so that children stay away from viewing inappropriate content.
The app allows parents to grant permission for accessing blocked sites.
The daily time limit can be set for apps.
Devices can be tracked on a live map.
Automatic alerts can be set as and when kids arrive or leave a place.
Control screen time and set custom time limits.
Get notified when your kids leave or arrive at designated locations.
Available for: Windows, Android, iOS
Final words
---
People are becoming more and more addicted to mobile phones. Parental Control Software helps the parents be more responsible in this digital world and keep their children safe from dangers like cyberbullying, sexting, online predators, suicidal tendencies, alcohol or drug abuse or any other kind of inappropriate scenario. These top Parental Control Software can help you better understand your child's behaviors and prevent any dangerous circumstances from happening.
Learn more about how to protect your privacy online by checking some of our other post in Privacy and Security Tools category.
---