The use of these best parental control apps for Android can be a good option for protecting your child against the dangers that the digital era hides online. According to Adolescent Health statistics in 82 percent of the sex crimes against minors, offenders used information provided in the victim's social media profiles. Nearly 33 percent of all teenagers have become victims of cyberbullying, yet only seven percent of the parents worry about it.
What is Parental controls?
Parental controls are features which may be included in digital television services, computer and video games, mobile devices and software that allow parents to restrict the access of content to their children.
The demand for parental control methods that restrict content has increased over the decades due to the rising availability of the Internet. 
Do you really need a parental control application for your child? You're the parent – the choice of how far you want to go is up to you.
Below we'll present the top Parental Control Apps for Android you can use to protect your child from the danger of the Internet with the main features of each of them to help you choose the best one for yourself that satisfies all your needs.
Here are the Best Parental Control Apps for Android
Google Family Link for parents
---
Google Family Link is a free parental control app for Android and iOS. The Family Link app lets you set digital ground rules to help guide your children as they learn, play, and explore online. Family Link also lets you create a Google Account for your child that's like your account, with access to most Google services.
The app let you manage what apps your kids can use and when they can use them, what websites they can visit, and when they can use the device. 
Features:
Connectivity with Google Assistant
Monitor your child's apps and websites
Locate your child's phone
Control screen-time and locking the phone
Manage purchases and downloads on Google Play store
Set limits on app use based on ratings from the Entertainment Software Rating Board
Limit the types of books your child can download
Set limits on movies and TV shows based on rating systems
Control your child's ability to share photos
Control your child's access to microphone, camera, location and contacts
Control search options
---
Kaspersky Safe Kids
Kaspersky Safe Kids gives you more than standard parental controls to make parenting easier. Kaspersky Safe Kids provides strong parental controls and Internet filtering at a low price. It is very competitively priced, at $14.95.
If children attempt to visit forbidden sites, or proceed to past the warning screen, to the site, parents are notified via email. Safe Kids is available for Windows and macOS desktops with mobile apps for Android and iOS. 
The app also tells you whether their phone has GPS, Wi-Fi, or networking turned on and even shows you the remaining battery life. 
Features:
Real-time location tracking at any time
See all device usage times and add custom device blocks
Automatic and custom internet material blocks
Allows you to block access to adult websites and content*
Blocks harmful YouTube search requests on topics like drugs & alcohol
Helps you manage access to games & inappropriate apps*
Lets you manage their screen time by device*
Reports on their public Facebook activity, including their posts and newly added friends
Shares expert advice and tips from child psychologists on online topics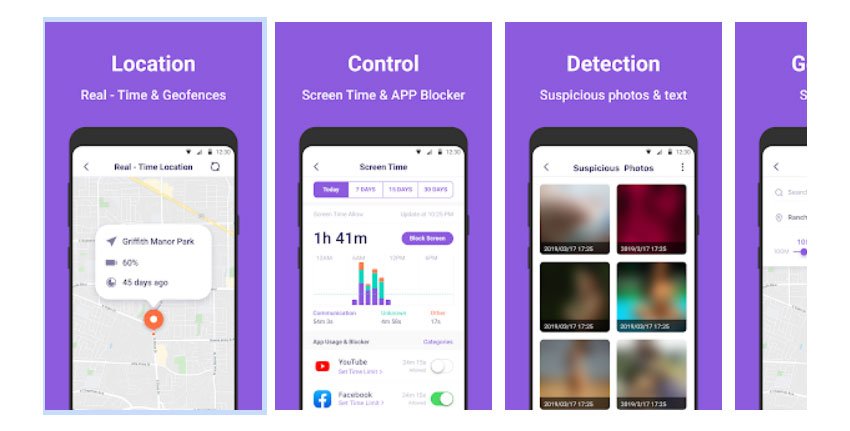 FamiSafe 
FamiSafe parental control app is a reliable all-in-one parental control app aimed at safeguarding kids 24/7 online. Keep family safety, link family devices. 
FamiSafe lets parents control screen time, track real-time location and detect inappropriate content on kids' devices. The parental control app that has been launched by technological giants Wondershare.
FamiSafe is a cross-platform parental control Parental Control Apps for Android and iOS app working on mobile devices and tablets. Parents can control children's devices via any desktop or mobile web browser.
Features:
Real-time GPS location tracking and custom geo-fencing services
Remote access to browser history and internet usage, setting web filter at any time
Block access to applications as you need and see daily phone activity
Screen Time & Smart Schedule: Give kids undistracted study time by limiting screen time and setting smart schedule in specific places and time
Explicit Content Detection: Track and detect dangerous content on SMS.
Norton Family Parental Control
Norton Family Parental Control from Symantec is an excellent cross platform parental control product, allowing the monitoring of as many devices as required for $49.99.  
Norton's parental control app package is equally focused on desktop web browsing, and mobile device web browsing and app usage. Parents can set customized filters for web activity, blocking certain sites and allowing others. Norton another Parental Control Apps for Android offers standard usage controls that feature access scheduling and app and website blocking.
Features:
Real-time GPS location tracking and custom geo-fencing services
It helps block unsuitable sites while your kids are surfing the Internet
Let's you see what websites they're visiting
Let's you see what they're searching for
Online web and device time supervision
Set up online search keyword alerts
Monitor all social network activity
Protect all personal information
Track all calls and SMS messages
Let's you see what apps they're downloading and more
Family Time
Family Time is one of the best Parental Control Apps for Android and lets you monitor and control your child's mobile, tablet, or other Android devices remotely and securely. It offers one account for your family with unlimited devices. 
The app has a version for Android and iOS as well. Pricing is calculated based on the number of devices used.  FamilyPause makes locking your child's mobile device a breeze.
Advanced location tracking to keep track of their location and places they visit frequently. It is very impressive that you can actually block videos based on their ratings.
Features:
Unique BedTime feature to block nighttime access to the device
Homework time schedule feature
Custom time limits on device access
Real-time GPS location tracking with geo-fencing capabilities
Block and unblock applications at will
ESET Parental Control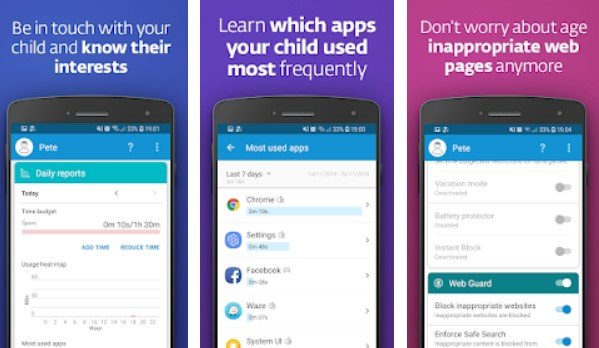 ESET Parental Control is another pick for best Parental Control Apps for Android designed to protect children using tablets and smartphones in a child-friendly way, now supporting wearables.
ESET Parental Control app lets you monitor online activity of your kids, set up rules for time spent on the internet, playing games and type of content.
The software also reports you the overall time your kid has spent on the internet during a specific day. The ESET Parental Controls tool will also help you to track your child's exact location.
Features:
Complete control over application access
Custom and automatic web guard and internet filters
Check your child's location anytime with real-time GPS location tracking
Custom parental control message sent remotely
Allows parents to set up zones and sends alerts
Screen Time Parental Control App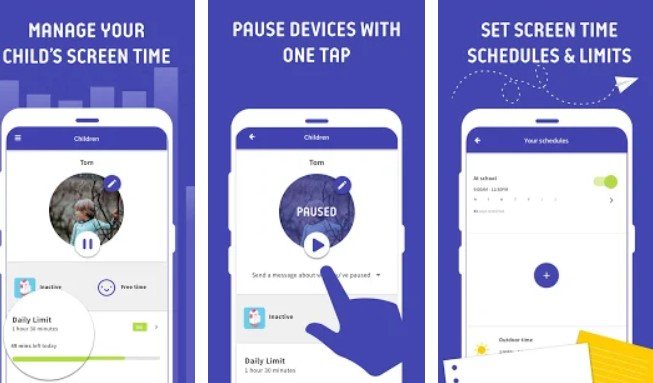 Screen Time Parental Control App helps you better understand the usage of our kids mobile phones. Screen Time will show a detailed view of the daily mobile phone usage, accurate to the use of the phone in each hour, which apps have been opened. 
You can set a daily duration limit for each app or type of app, and you can set a different duration for each day, such as on weekends. When the usage time arrives, you will be notified and a page similar to App Lock will be displayed. 
Some important applications in mobile phones, such as text messages, telephone calls, etc., can be whitelisted for these applications.
Features:
Complete screen control with start, pause, stop, swap and scheduling options
Reward system for staying off devices
Personalized avatar system to engage children
Daily and weekly schedule options
Instantly pause your kids' devices at the push of a button
Block certain app activity all the time or at certain times
Block or restrict all app activity
Block (or allow) specific websites or whole categories with Web Filtering
See exactly where your children are with GPS phone location tracking
Email notification and feature edit warnings
Final words
---
People are becoming more and more addicted to mobile phones. Whether it is adults or children, whether at the time of dinner or at the parties, the problem of mobile addiction has become more and more serious. These top Parental Control Apps for Android can help you better understand your child's behaviors and prevent any dangerous circumstances from happening.
Learn more about how to protect your privacy online by checking some of our other post in Privacy and Security Tools category.
---