Internet Speed Test Tools is used for testing the speed of the internet connectivity and also for measuring the bandwidth of network connection. We've completed a research and present you our top 8 pick and include a brief description and give our thoughts about their attractiveness, ease of use, and functionality.
In general, the speed test services are 100% free, and it does various tests for checking your internet connection and overall Internet performance. The variables checked regarding your Internet connection are usually latency, jitter, upload speed, download speed, ping. Based on their values is calculated your overall Internet performance.
A slow Internet means that web browsing is affected as well as the downloading of data is affected and you can easily check if that's true by using Internet Speed Test Tools.
Here are the 8 Best Internet Speed Test Tools.
Image Source: speed.io
Speed.io
---
Speed.io is a modern DSL speed test to analyze your broadband internet access. All tests are performed within your browser over HTTP (TCP) and require no further software. With this tool you can test any kind of connections such as LTE, GPRS, UMTS, DSL, ISDN, VDSL or cable.
Speed.io is the most accurate DSL speedtest to test your internet connection.
---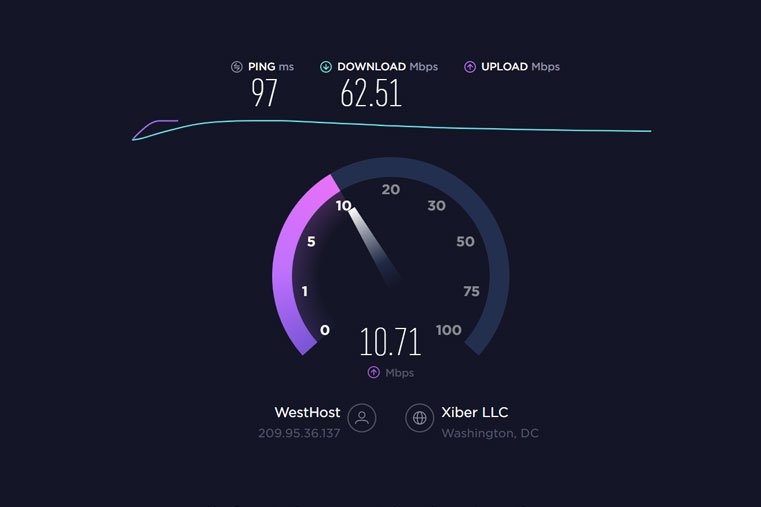 Image Source: speedtest.net
Speedtest.net
Speedtest.net is a broadband speed analysis tool that allows anyone to discover the real speed of their Internet connection. Owned by Ookla, the site uses over 2,500 servers to provide accurate test results and it has apps for any platform.
With a press of a button you'll have the results in a seconds and automatically is selecting a server – Speedtest will suggest the best one for you based on your location.
This is probably the most popular internet speed test website.
Image Source: Bandwidth Place
Bandwidth Place
Bandwidth Place provides uncluttered, a clean, easy to use interface in order to provide its users with bandwidth test results. Bandwidth Place speed test works on any device and it offers an easily access from any device that has an internet connection to see how fast your upload and download internet or data speeds are running.
They also partner with the top Internet providers in the United States to let you compare plans and find the best Internet Service Provider (ISP) that meet your needs.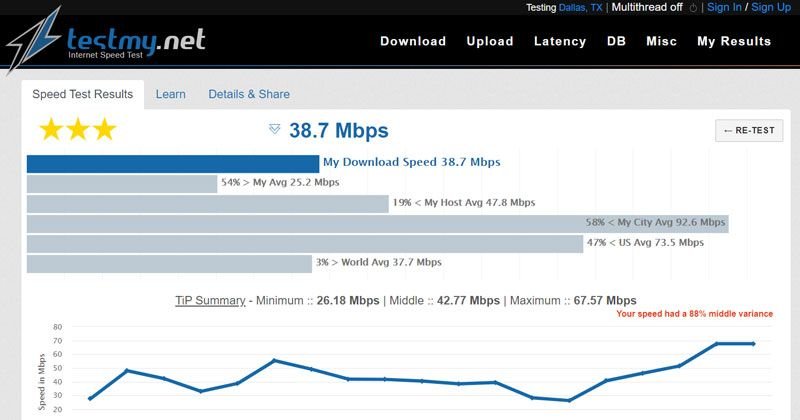 Image Source: testmy.net
TestMy.net
TestMy.net gives you the option to test your upload speed, download speed, or both. A cool feature is it also allows you to compare how you are performing against other benchmarks like your city average. The automatic speed test is an easy way to make sure your provider is delivering what you're paying for.
The site doesn't have a fancy interface but it works well and it is a powerful broadband speed test that will test your Internet, calculate your transfer rate and output accurate, reliable and easy to understand results.
Image Source: SpeedOf.Me
SpeedOf.me
SpeedOf.Me was the first HTML5 broadband speed test. It is a pure HTML5/JavasScript speed test which relies only on browser core technologies and it works on any device including desktop browsers and mobiles, tablet, game console, smart TV,.
SpeedOf.Me offers the first and only speed test API, allows you to measure your users' connection speed. The site provides attractive real-time speeds graph, and you can also check your history results.
Image Source: Speedsmart
Speedsmart
SpeedSmart is HTML5 based so no plug-ins like Flash or Java are required. It also has an iOS and Android app provides a real-world internet speed test with a full history.
When you go to the website it first determine your IP location instantly. Then you can analyze your Internet latency, upload and download speeds, as you'd expect.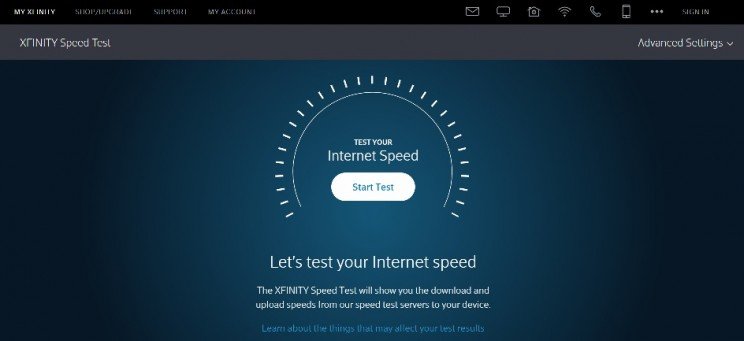 Image Source: Xfinity Speed Test
Xfinity Speed Test
Xfinity Speed Test is owned by the Internet service provider Comcast. It is a simple browser based Internet Speed Test Tool that shows you download and upload speed, by calculating the time taken for each byte to travel from your computer to the remote server, and from a remote server to your computer. .
Xfinity is the largest ISP of the USA with near about 40% Internet market share. In the quality of signals and coverage they hold 4th place in USA.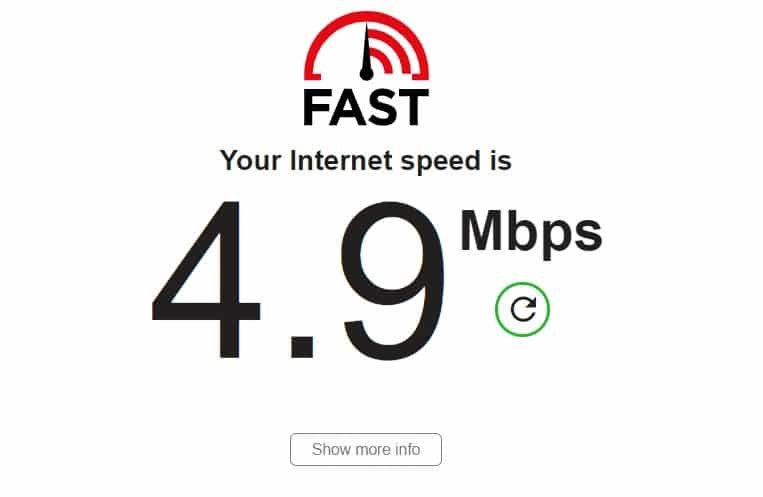 Image Source: Fast.com
Fast.com
Fast.com is owned by NetFlix and it is another great internet speed test website. The website is extremely simple and clean user interface and it just shows the download speed in real-time.
You have an advanced section where you can check the upload speed, latency,
Final words
---
All of these are great Internet Speed Test Tools that you can access from your desktop and phone. The good think about it is that you do not have to install anything. This could be important if you do not want to use your data to download any apps and just need a quick test. Have we missed any great Internet Speed Test Tools? Let us know in the comments below.
Learn more about how to protect your privacy online by checking some of our other post in Privacy and Security Tools category.
---