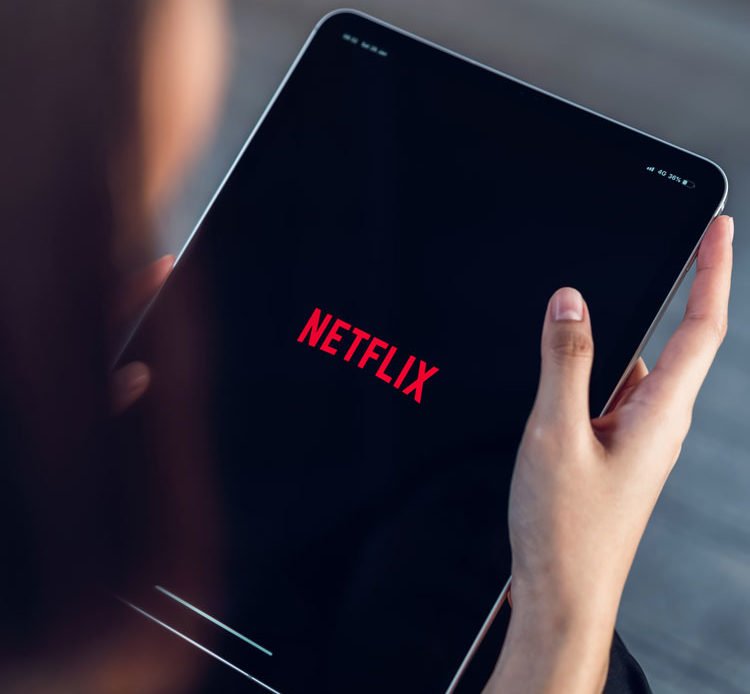 Kodi application can easily become your family's entertainment hub, especially after connecting it with Netflix – the world's most popular streaming platform. In the latest version of Kodi the need of using repository and add-on that in few months are old and no longer works are eliminated. Accessing Netflix on the latest version of Kodi is made easy and you don't need to link accounts anymore. You can combine these two ultra-powerful platforms in a very seamless very. So, how to install Netflix on Kodi in 2020? In this article, we'll make it easy for you and tell you all you need to know!
How to Install Netflix on Kodi 18.5 Leia?
---
Kodi 18 Leia is still in beta testing, which means it might be unstable – it does one thing for sure – it provides hassle-free access to Netflix and a simple workaround for the broken repository link.
Warning: Kodi should only be used for content to which you have the legal right to access. Neither the Kodi Foundation nor KodiRevolution advocates the use of Kodi for piracy.
Important: Always use a VPN with Kodi
---
One of the reasons to use a VPN with Kodi will allow you to use it privately and don't allow your ISP and others to invade your privacy and see the content you stream and the sites you visit.
But VPN is useful with Netflix as well because it allows you to view from any location your favorite version of Netflix. With this been said you will have access to the full international Netflix catalog with thousands of movies and shows that are restricted to certain regions.
To achieve this, you need a VPN that has the following features:
The ability to bypass VPN blocks
Servers in the Netflix region you wish to access – servers in the US are a must if you want the latest shows and releases
Fast speeds to reduce the risk of buffering and long waits for connections
Excellent security including AES encryption and a no-logging policy
Accessible customer services – just in case you need support with any aspect of your VPN
If you're looking for a VPN that can offer you all this and more, don't miss our list of the Best VPNs for Kodi Streaming.
We recommend NordVPN. It's a fast VPN with servers in more than 50 different countries and exceptional unblocking ability (it is regarded as the best VPN to safeguard your privacy). By choosing annual plans instead of monthly you can save and even bigger savings with NordVPN 70% instant discount when you select 3 years plan. Further, NordVPN is extremely portable, with dedicated apps for Windows, Mac, iPhone, and Android.
Get 3 months free on ExpressVPN plans here.
Installing Kodi 18
---
For older versions of Kodi, you can install the Netflix addon, but Kodi 18 offers a host of new features to enhance your experience. Here is one example, Windows users can install the 64-bit version and take advantage of their full computer hardware, while Android users can use voice commands for a search for content.
If you are running Kodi version 17 with already Netflix addon configured then there is no need to upgrade right now since version beta means there are could be possibilities of bugs, upgrades, and upcoming changes. But if you are looking for the repository with that addon for Kodi 17 the link no longer works.
Download Kodi 18 Leia
---
Kodi developers make it to support many devices and operation system. You can pick bellow the installation you need.
Click on the approprieted operation system to download Kodi and make sure you choose the correct installer.
The same steps applies even if you already have Kodi 17 installed.
Download the Netflix plugin zip file
---
In order to integrate Netflix into Kodi 18, the plugin files still need to be downloaded. Download the Netflix plugin files to your device download folder.
Important: Before installing the Netflix plugin, make sure you have enabled Unknown Sources feature. To activate this feature, navigate to System Page -> System Settings -> Addons -> Turn on Unknown Sources – > Click Yes to turn the feature on.
Open Kodi and install the zip file
---
In order to integrate Netflix into Kodi 18, the plugin files still need to be downloaded. Download the Netflix plugin files to your device download folder.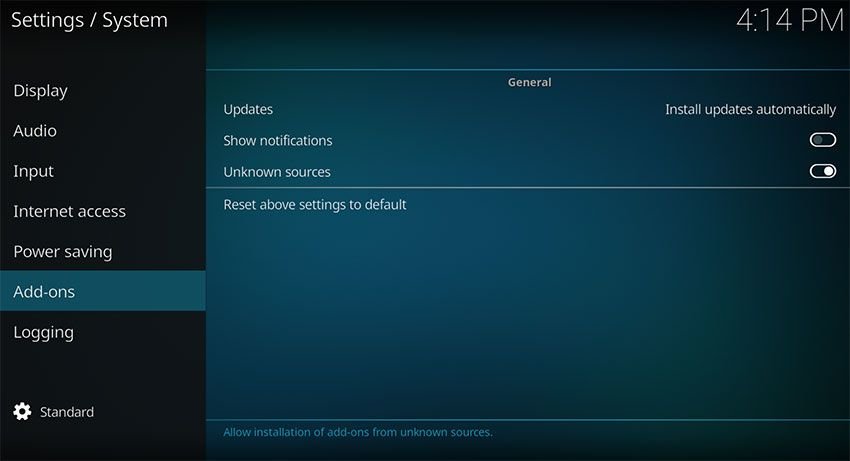 Next, go back to the home screen, click on Add-ons, select My Add-ons, and then click on Video Player Input Stream. Scroll down and enable InputStream Adaptive and RTMP Input.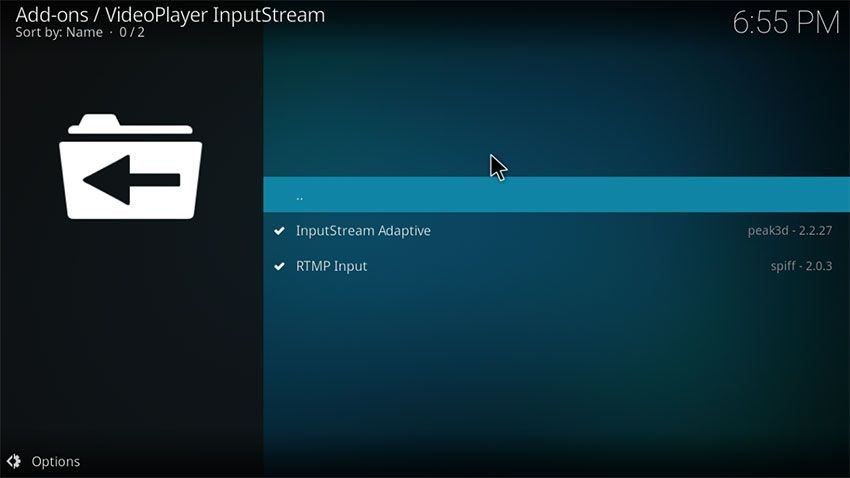 Now, go back to the home screen, select Add-ons and click the box icon in the top-left of the screen and choose Install from zip file. Locate the file you downloaded; it should be listed as plugin.video.netflix-master.zip.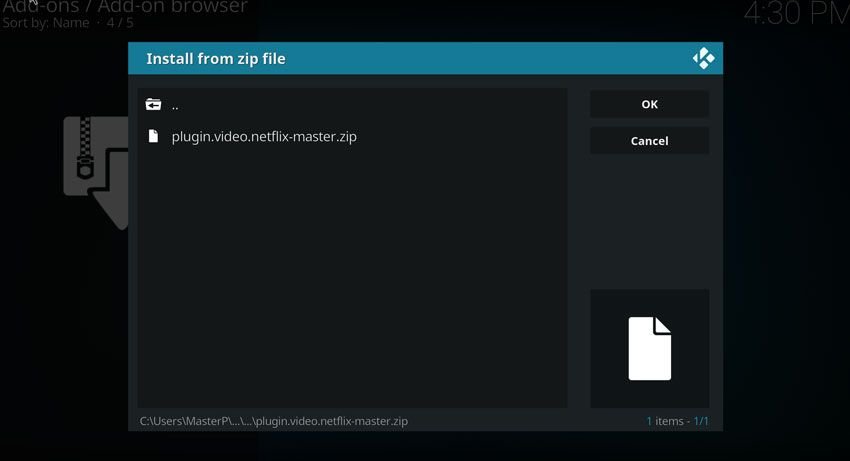 Once you receive a notification that the add-on has been enabled go back to the home screen, click on Add-ons –> Video Add-ons –> Netflix.
If you're on Android, all that's left to do is login. Users on other platforms have to create a file in Kodi's special://home directory, however. The problem is that this isn't an actual location—it's shorthand for a folder whose location changes based on the operating system you're using. Let's cover how to solve this problem.
Linking to the Widevine DRM file
---
Netflix uses Widevine Digital Rights Management (DRM) technology to prevent their content from being accessed by unauthorised viewers. In this step, we'll be linking to a Widevine decryption library in order to allow us to access Netflix's content.
To begin, open a text editor like Notepad or TextEdit. The exact options you'll see will differ based on the software you're using but it should be fairly obvious which ones you need to choose.
Copy and paste everything from this page into a new document. Next, click Save As. Choose All files in the Save as type dropdown and name the file "libwidevine.sh", without the quotation marks. Save this to your desktop for now; we'll move it to the relevant folder in just a second.
Now we have to establish the actual location of special:// home on your system. Take a look at the list below and navigate to the relevant folder.
Windows: C:\Users\[username]\AppData\Roaming\Kodi
MacOS: /Users/[username]/Library/Application Support/Kodi
Linux: /home/[username]/.kodi
OpenELEC/LibreELEC: /storage/.kodi/
iOS: /private/var/mobile/Library/Preferences/Kodi
Next, create a folder named "cdm", without the quotation marks. Move the libwidevine.sh file you created earlier into this folder.
Using the Netflix Kodi addon
---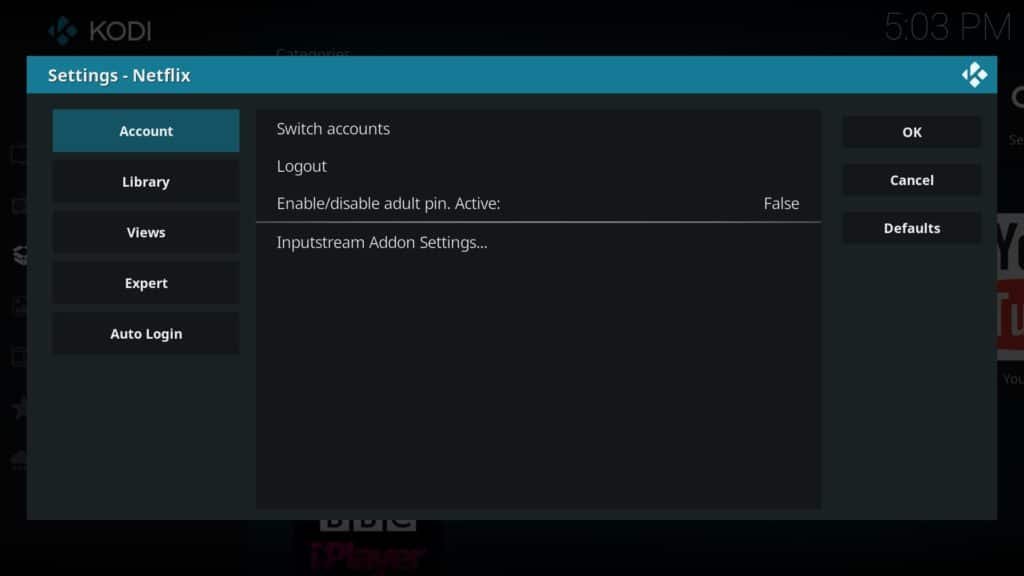 When you first open the Netflix addon, you'll be prompted to enter your Netflix login credentials. However, you can switch between multiple accounts by going into the addon's settings menu and choosing Switch accounts. If you have a preferred account, make sure to enable automatic login by highlighting the Auto Login tab and toggling the option that appears.
If you find that videos take a longer time to buffer or stutter, you'll want to adjust the Inputstream Addon Settings under the Account tab. This allows you to change the maximum video resolution and bandwidth, hopefully providing a more consistent experience. We did encounter an issue wherein selecting this menu option caused all other settings text to disappear, but it should appear again the next time you open the menu.
You can also set up a PIN number in case you'd like to restrict access to adult content. It's worth noting that even if you've set up parental controls on Netflix directly, this addon will not ask for a PIN unless one is set up in the settings menu. However, there are a few problems with this method. Firstly, the PIN can be reset by uninstalling and reinstalling the addon. Secondly, there seems to be no limit to how many tries a user has at entering the PIN. Third, sometimes the correct PIN number would register as incorrect. For these reasons, we recommend avoiding this feature entirely.
Most of the options on the main menu fail to load content. This shortcoming means that the Netflix Kodi addon isn't ideal for people browsing for something new to watch. However, the search function works as intended. As such, you can search for a specific TV show or movie and watch it completely legally using this addon. All that's left is to tack on a VPN service if you want to bypass Netflix geographic content blocking so you can watch a larger variety of content than what's available in your home country.
How to switch Netflix region on Kodi
---
With a VPN, it's easy to change your Netflix region and access other countries' Netflix libraries abroad. Just follow the steps below:
First, sign up for a suitable VPN. We recommend ExpressVPN but NordVPN and CyberGhost are both strong, low-cost alternatives.
Download and install the app, taking care to get the appropriate version for your device.
Connect to a VPN server in the country whose Netflix catalog you'd like to use.
Open Kodi and log into the Netflix addon.
You should now be able to stream country-specific Netflix titles.
Final words
---
The Netflix Kodi addon still has some bugs to work out but provides a wholly legal way to stream content via Kodi. That said, setting it up is just the beginning. We can also help you set up subtitles and solve any playback issues you might encounter.
Netflix is a great streaming platform, but it's far from the only one. If you're looking to expand the size of your content library, you might want to check out our guides to the best Kodi addons for anime, movies, live TV shows, and sports.
---